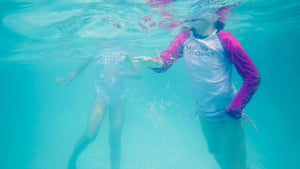 Frequently Asked Questions
To make things a little easier, please find below a list of our most commonly asked questions.
If your query isn't covered or you need further help, feel free to email us at our contact page and one of our team will respond as soon as they are able. If it's outside our business hours of 9-5pm Monday to Friday, your email will be prioritised the next working day.
Who is M&C?
Matilda & Clancy is a purpose led Australian bush business, making beautiful, comfortable, fun, quality children's swimwear which is designed for Australian conditions. We are passionate about doing our part to help improve the health of our environment and our oceans. All of M&C's swimwear is produced from quality regenerated fabrics and we choose to use regenerated, recycled and biodegradable products within our supply chain. M&C also works in collaboration with our stockists and customers to support a small number of local worthwhile causes and grassroots projects annually.
How does M&C help to pay it forward and how can I get involved?
Easy, by purchasing from Matilda and Clancy.
Each year in close collaboration with our incredible M&C stockists, we identify a number of wonderful local causes and grass roots projects that M&C and you, our valued customers, can help support. You can read about our latest pay it forward project in our blog, launching soon!
Where and how can I purchase M&C swimwear?
Matilda & Clancy can be purchased from one of our selected retail stockists and public pools Australia wide. Please refer to this page for stockist information as we expand this list.
If you are a wholesale client, get in touch today to find out how to add Matilda & Clancy swimwear to your range!
What are your eco friendly fabrics made from?
All of our swimwear (outer and lining) is made from the regenerated nylon ECONYL (R) yarn. ECONYL (R) is a 100% regenerated Italian polyester, produced from abandoned fishing nets that litter our oceans, as well as pre and post consumer waste. The resulting sustainable fabric is comprised of 78% Recycled Poly and 22% Lycra Xtra Life.
Is recycled nylon the same quality as new nylon?
Yes the recycled nylon is the same quality as regular nylon. The fabric isn't compromised during the regeneration process.
Does regenerated nylon shed microplastics into our waterways?
Yes. All nylon, synthetic and man made fibers, recycled or new, release tiny particles called microplastics into the water when being washed. To reduce this, we recommend using a Guppyfriend Washing Bag when washing your swimwear.
Is your swimwear SunSafe?
All of our swimwear has excellent UV protection ratings of 50+ UPF.
What type of packaging do you use?
M&C strives to make conscious choices when it comes to reducing our environmental impact in all areas of our supply chain. All of our post packs are home compostable and biodegrade in 3-6 months. We choose to use Post packs from The Better Packaging Co which are made using predominantly plant based material. (Mainly corn, rice and wheat byproducts). They easily break down in 3-6 months and can be placed into your compost bin unlike regular plastic bags which can take up to 1000 years to completely break down in the environment.
What is your 'manufacture on order' stock policy, pre order policy?
By manufacturing and holding a small amount of stock at any one time and choosing to manufacture on demand. M&C feels that this is also helping to reduce the costs and environmental impacts associated with physically producing and storing large amounts of excess stock.
What sizes do you make?
M&C is currently available in sizes 3-10. We plan to extend our market to Babies / Toddlers and Women's very soon.
What size should I order? Do you have size charts?
M&C work on standard Australian sizing, Our swimwear is true to size if your child is 5 then choose a size 5. 
What forms of payment do you accept?
M&C accepts most credit cards, Paypal, Afterpay and Applepay.
How do I track my order?
Once your order has been dispatched you will receive a confirmation email that includes a tracking number. Please allow up to 24 hours for the tracking details to be uploaded by Australia Post.
What is M&C's Returns Policy?
Customer satisfaction is incredibly important to us. We hope you love your product as much as we do. If however you are not happy with your purchase, you can return it for a refund or a store credit. Please note that shipping costs are not refundable. For further information refer to the RETURNS POLICY for details.
 
What are your Sale T&C's?
There is no refunds or exchanges on sale items. Sale items can be returned for a store credit only. Please refer to our full T&C's for more information.
What if my order is the wrong size?
You are able to return your purchase and exchange it for the correct size. All items must be in their original condition, unworn, unwashed and with tags and hygiene labels in place. Please refer to our RETURNS POLICY for more information.
What if my order is faulty?
If you receive your order and your garment is faulty, please refer to our RETURNS POLICY. If you believe your item qualifies for a refund please contact us as soon as possible (within 7 working days of receiving your order) and our customer service team will assist you.
Do you have a newsletter?
Yes, we would love you to join the M&C Family to receive 10% off your first order and be first to hear about our wonderful community, special offers and future collections and collaborations.
Best Sellers
Treat yourself and your kids this Summer with these top picks from our debut collection.