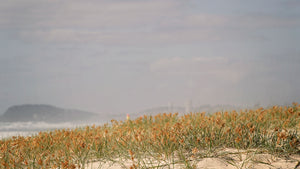 About Us
Born from the land. Love for the water.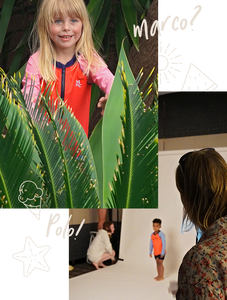 Sometimes, opposites truly do attract and end up creating the biggest impact, because a sneaky paradigm shift is at play. Japanese wabi sabi. Salted caramel. Yin and yang. It's the juxtaposition of the moment that creates the indelible memory. Such is the unsuspecting story of Matilda & Clancy. The tale of a woman who was born at the beach but destined for life in the bush. Here, she would start a young family and materialise a vision out of necessity for her children — purpose-made swimwear designed for life on the land but just as at home on any beach. Opposites, it seems, had once again weaved their alchemic magic.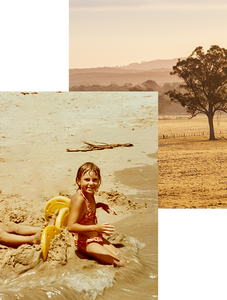 Founder, Carolyne McCashney, grew up on the pristine beaches of the Mornington Peninsula, Victoria.
She reminisces about a carefree childhood spent between school holidays in the country visiting family and seemingly endless summers of beach spent fun with family and friends. Every day after school, her family would pile into mum's baby-poo-brown VW Bug and drive 10-minutes down to the local beaches to play until well after sunset; swimming, surfing and windsurfing with most weekends spent at the local surf club.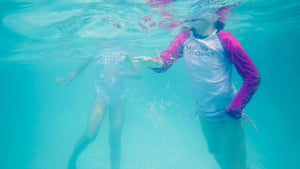 A love of country life and living on the land.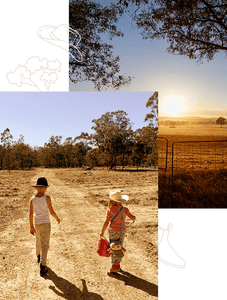 Lovingly named after her son's and daughter's middle names.
As Carolyne's own children grew older, it was the local pool that would provide cool and comforting respite from the daily realities of ongoing drought — this is when the lightning bolt moment struck over the humble homestead! Regional, rural and remote kids need warmer, sun-safe swimwear because the outdoor pools are always colder due to no pool heating. It also needs to be a little bit sturdier and flexible due to the different water activities kids are enjoying like dam overflows, muddy river jaunts and lawn sprinkler high jinks. So, in a time of natural adversity, triumph prevailed with the birth of Matilda & Clancy kids' swimwear.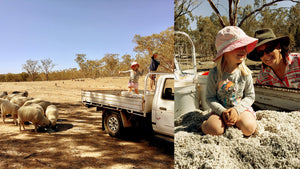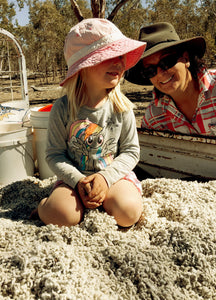 Fast-forward and it was precisely the 18th of August 2019 at the tail end of the worst drought in living memory (and after 14-years on the farm) that Carolyne would daydream of what could be while shovelling sheep feed with the kids.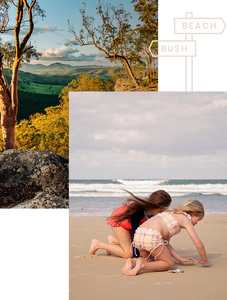 She began to tap back into her creative skills and set about building the Matilda & Clancy dream.
Straight off the bat, it had to be well designed and well-made, as Carolyne has always admired products of premium quality in both form and function. She also embraced her creative process of looking for inspiration in "the wonderful of the everyday" — to be inspired by people, places and the stunning Australian landscape. These natural muses were taken through a process of identification, development and refinement to ultimately create beautiful, functional, high-quality kids' swimwear that celebrates outback Australia. "Iconically inspirational" colour palettes, fun prints and vibrant patterns are designed in collaboration with homegrown artists who draw artistic direction from Carolyne and Mother Nature herself. Sustainability and safety were equally as important elements to incorporate into the range with premium recycled fabrics used offering a certified UPF 50+ rating.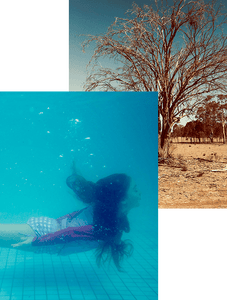 Supporting rural, regional and remote communities.
Matilda & Clancy is motivated to encourage local stockists and customers to engage with the brand, as well as support Australian charities, local causes and community projects that promote regional, rural and remote wellbeing. Each year, Matilda & Clancy is selecting a small collective of these amazing, local initiatives and donating a percentage of sales to help them reach their goals and project aspirations. In this way, Carolyne and the team feel they are championing rural, regional and remote communities in a collaborative intention to thrive, even in the most challenging of natural and economic conditions.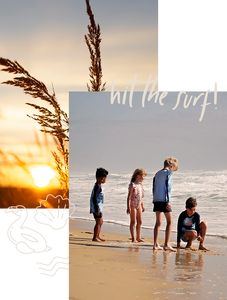 Let's make a splash, from bush to beach!
For Carolyne, Matilda & Clancy is all about having fun, enjoying the process, staying true to herself and appreciating the simple things in life. "I want this brand to be a part of creating great childhood memories. We're a tight-knit bunch in regional, rural and remote Australia, and above all, my ambition is for Matilda & Clancy to be a symbol of family connection and mateship that Australia is best known for and that which we most of all value and reflect on often as adults." The premier Matilda & Clancy Collection will be available soon in select public pool shops and independent retailers Australia wide.
Carolyne McCashney        
Texas, QLD, Australia